Do you feel

stress

and

overwhelm

from trying to keep up with daily paper and to-do's?
Is your paper and mail

unorganized

and/or in piles on the kitchen counter?
Do you have trouble locating paper, mail, bills, and ideas placed on sticky-notes?  
If you answered Yes to one or all of the above, the Sunday Basket is your solution.  The Sunday Basket is a simple yet revolutionary concept that helps you stay on top of your to-dos and projects and gives your paper a safe place to go.  It is an awesome way to help support your

emotional wellness

.
Choose an option below to get started!
"I have the Sunday Basket system already and need support with setting it up, organizing my items into the system, accountability, and guidance."
Schedule a virtual coaching session with me:
"I do not have the Sunday Basket system but am interested in it and have some questions."
"I do not have the Sunday Basket and would like to purchase and/or attend a Sunday Basket virtual workshop:"
Sunday Basket Workshop
The Complete Sunday Basket (includes one set of 1.0 and 2.0 slash pockets) including up to 90 minutes of individual virtual coaching or a group virtual workshop – $97 (Indicate color of the Sunday Basket at check out) A link to schedule will be provided in your payment confirmation email.  
Additional supplies are available:
One set of 1.0 slash pockets (1 each of red, orange, yellow, green and blue) – $15
One set of 2.0 slash pockets (5 each of pink, blue, purple, green) – $25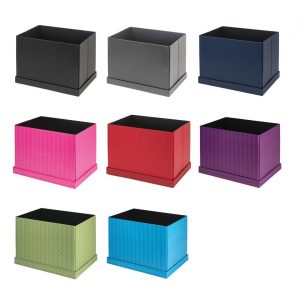 The Sunday Basket only (no slash pockets included) – $38  (Indicate color at check out)
"I had not heard about the Sunday Basket prior to being introduced to it by Fonda.  Fonda did an excellent job explaining the purpose and process of using the Sunday Basket.  She had also developed materials and was providing private consults to help with set up and personalization of this amazing system to be sure that everyone who purchases one gets the most out of using it.  I purchased the Sunday Basket for my daughter who runs a household and helps manage a business. She was so excited to receive it. She immediately called me upon receiving it saying it was a totally brilliant and efficient way to organize and manage everything.
"$97 feels like a lot when you don't know if it's going to work.  If I'd known for sure it would work, I would not have hesitated to buy it".